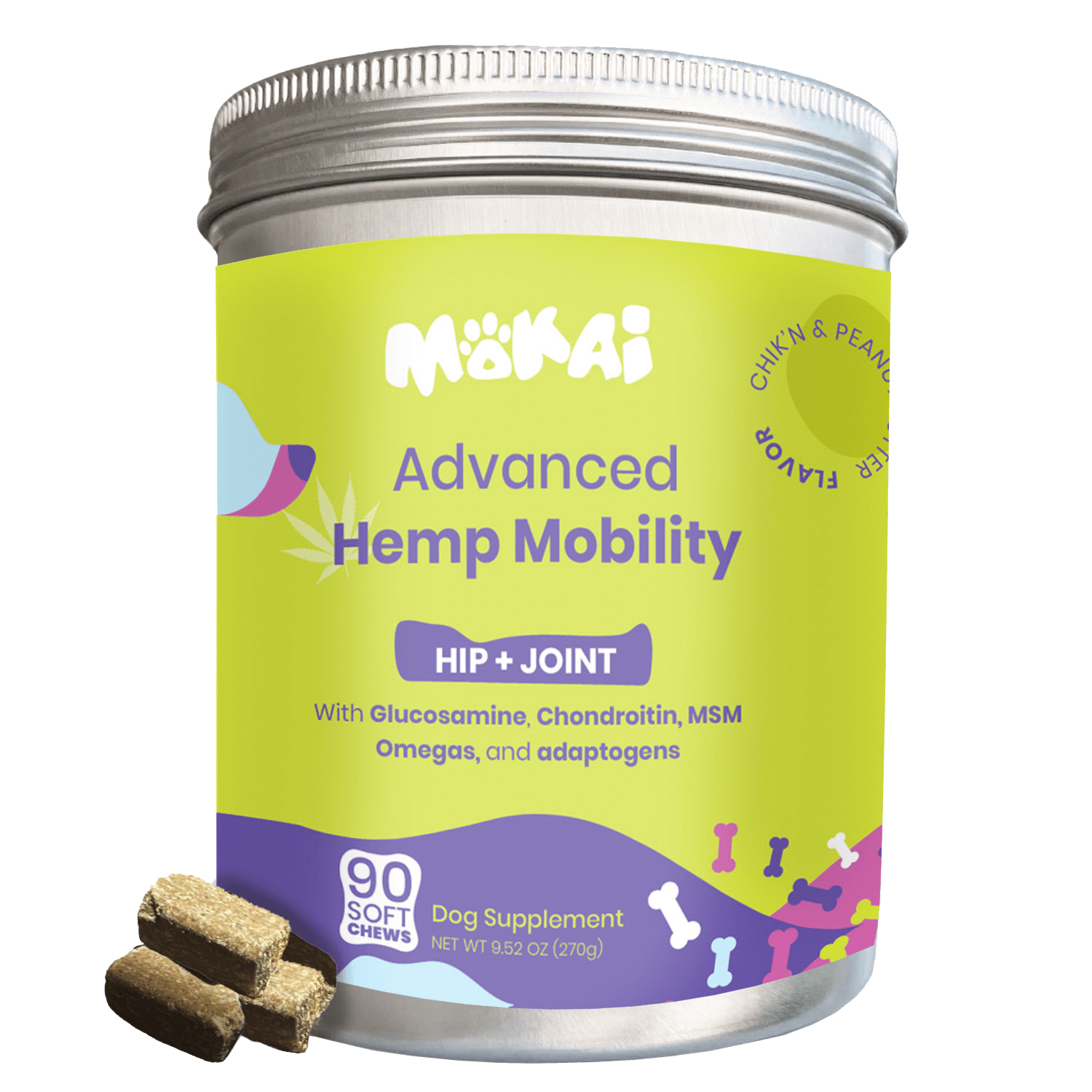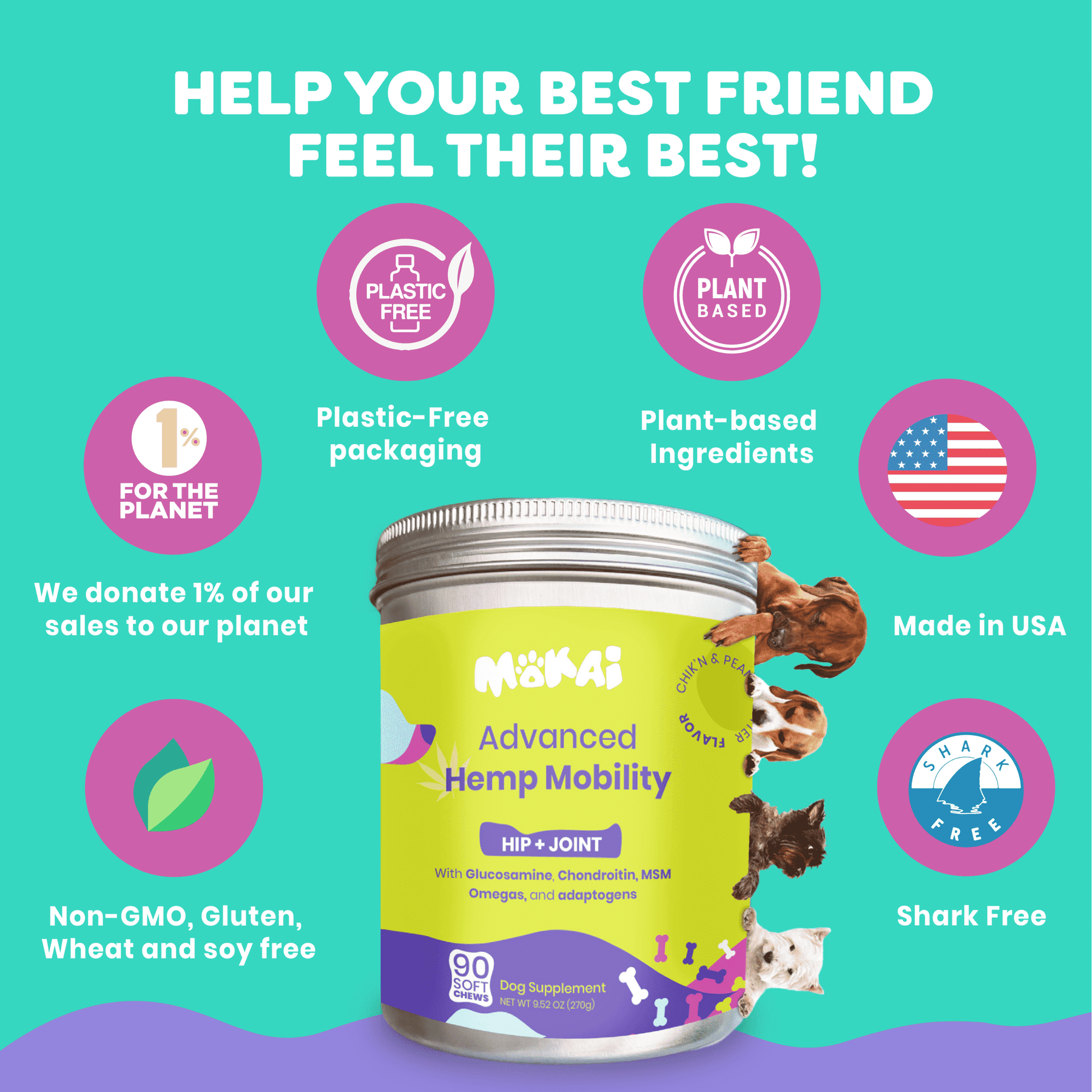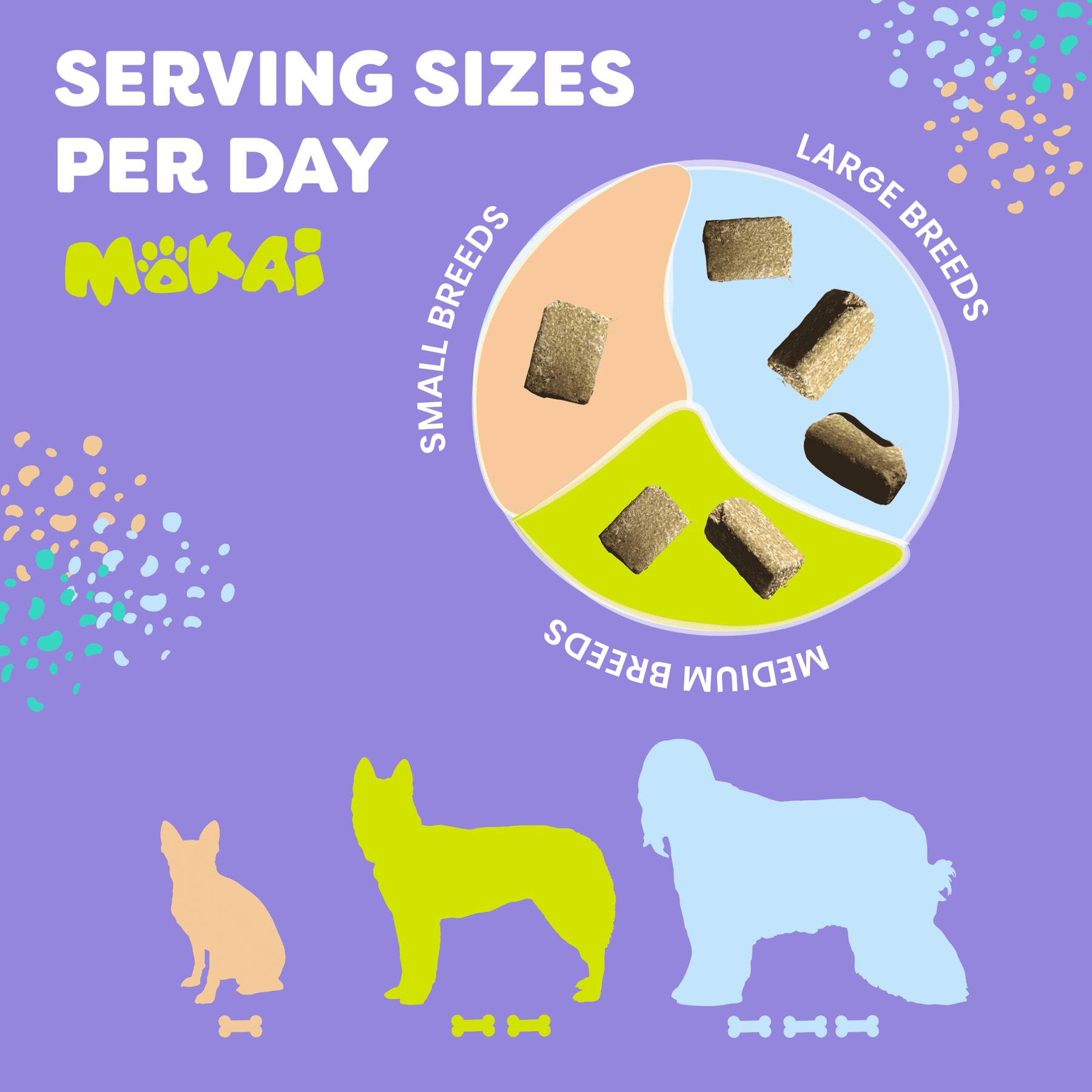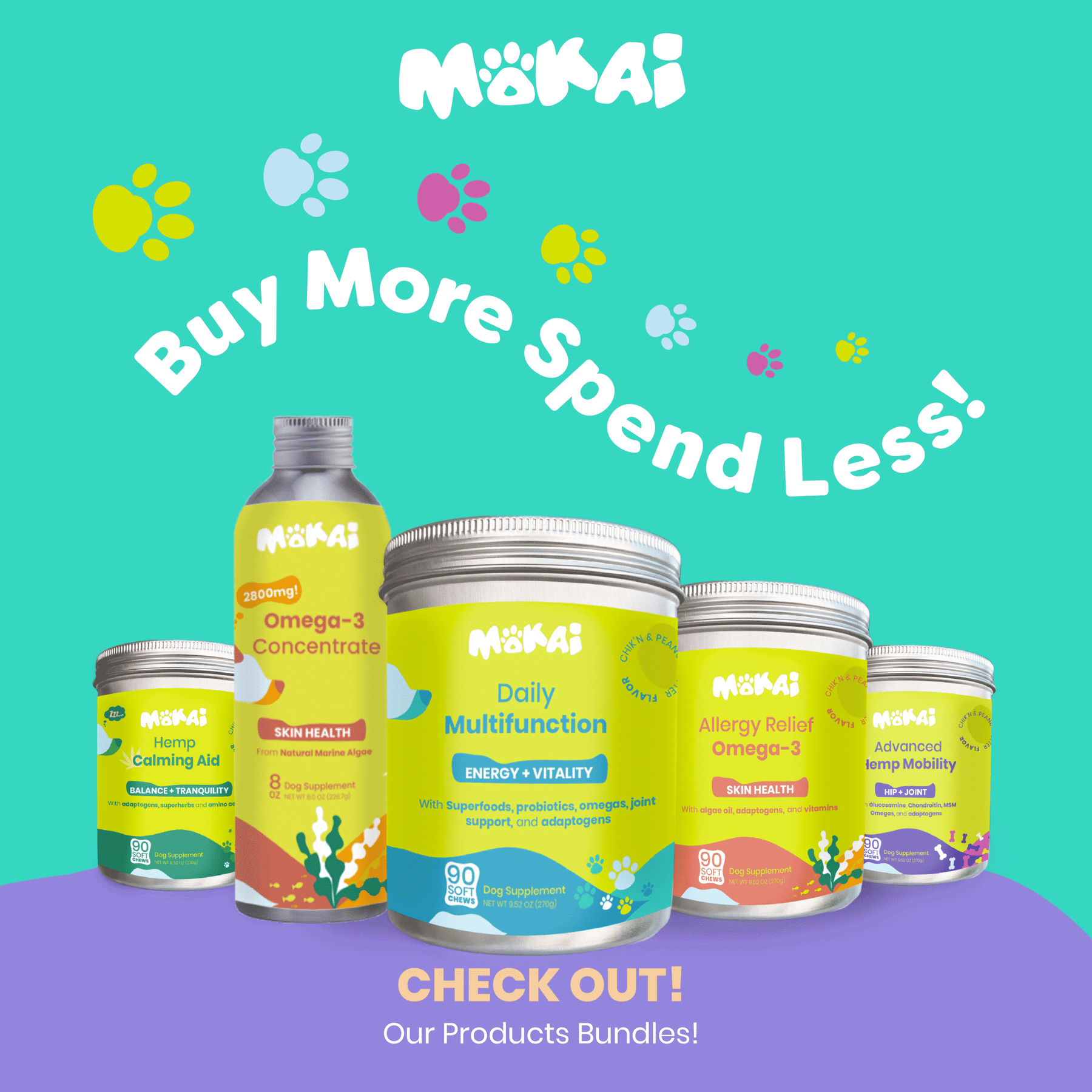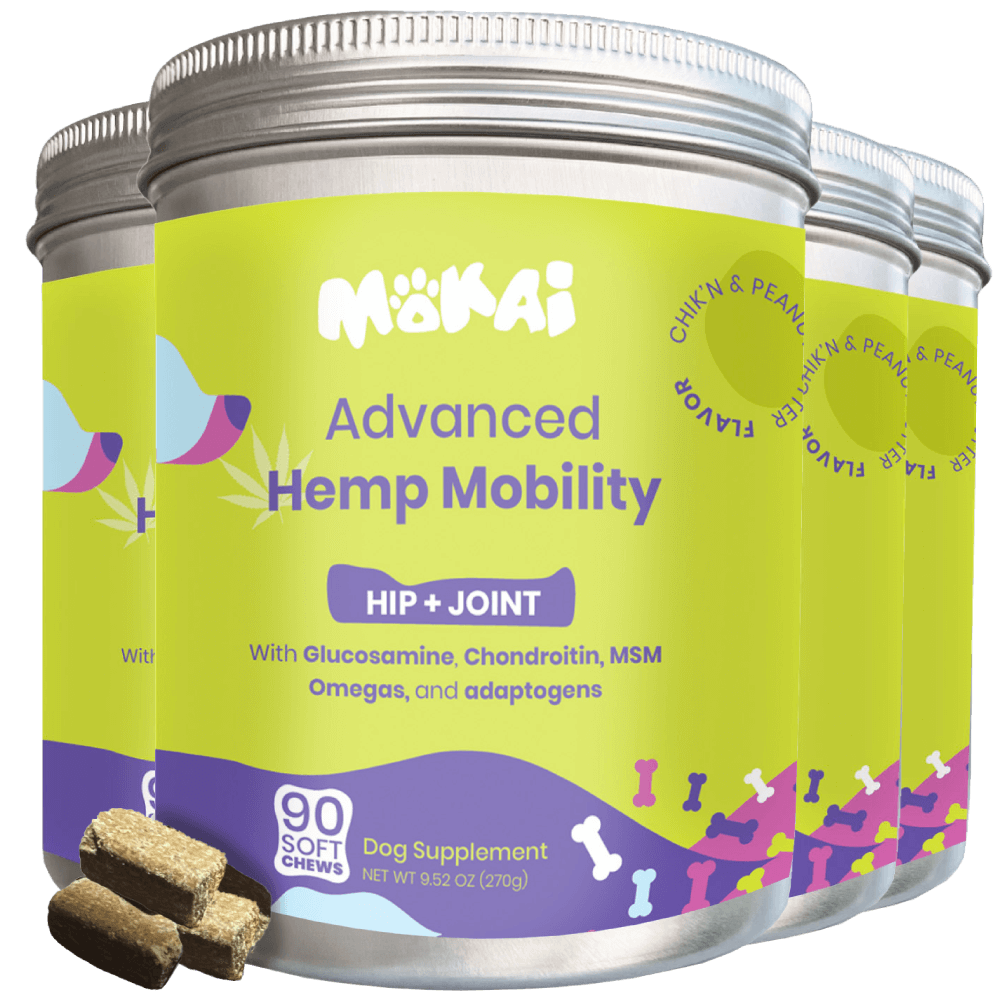 Mokai's hemp mobility chews are formulated with a comprehensive blend of plant-based Glucosamine, MSM, Chondroitin, and Omega 3 fatty acids. Contains a high concentration of potent anti-inflammatory and joint strengthening ingredients that reduce inflammation, treat dog joint pain, promote mobility and flexibility, and strengthen hips and joints.  
Relieves pain resulting from arthritis and osteoarthritis.

Reduces inflammation around the joints and aids in the development of cartilage.

Repairs damage to the joints by building cartilage and lubricating the joints.

Supports long-term joint health by building cartilage and reducing inflammation.

Promotes mobility, flexibility and strength.
 DOG'S WEIGHT                        Recommended Quantity
  Under 25 lbs                            1 Soft Chew (per day)
  25 - 75 lbs                                2 Soft Chews (per day)
  Over 75 lbs                              3 Soft Chews (per day)

Hemp Mobility For Dogs
Excellent
5698
positive Reviews
"Love the Mokai chews! Plus this is a great company to work with. They corresponded with me when I had an order mix-up and corrected it with great satisfaction. Thank you!"
— Ed Mowl

Health Benefits
Strengthens
hips and joints

Reduces pain and
inflammation from
daily activity

Controls joint
diseases such
asosteoarthritis
Builds and maintains fluids
surrounding the joints

Promotes mobility
and flexibility

Helps easy
pain and
discomfort
Mokai's Advanced hemp mobility for dogs is formulated with a comprehensive blend of plant-based Glucosamine, MSM, Chondroitin, and Omega 3 Fatty Acids for dogs. This dog arthritis supplement will reduce inflammation, treat dog joint pain, promote mobility and flexibility, and strengthen hips and joints, and the best part is that your dog will absolutely love this daily treat. Our vet-formulated dog joint chews contain a high concentration of potent dog joint support ingredients that are plant-based, which means that our chondroitin is not sourced from sharks (like other brands) and our glucosamine is not sourced from shellfish, which avoids unnecessary dog allergies, making it by far the best joint supplement for dogs.
Hemp Mobility Supports Hip and Joint For Dogs
Not only are our dog hemp treats a great source of glucosamine for dogs but they also contain the only vegan chondroitin for dogs, which are both potent ingredients for arthritis in dogs.  These natural dog treats also contain MSM, Omega-3 for dogs, and adaptogens that make it the best glucosamine for dogs.
Mokai's hemp chews for dogs provide joint care by strengthening and reducing inflammation of both the hips and joints.  And most importantly, it will help your dog right away, as it is a great dog joint pain relief treatment.
Our blend of plant-based chicken and peanut butter for dogs is irresistible, that's why our dog arthritis medicine is so popular among all breeds!
Active Ingredients (Per 2 chews)

Glucosamine HCI………………..300mg
MSM………………………………….200mg
Hemp…………………………………200mg
Turmeric…………………………….200mg
Omega-3……………………………..150mg
Chondroitin…………………………100mg
Devil's Claw…………………………100mg
Boswellia…………………………….100mg

Inactive Ingredients
Buffered white distilled vinegar, chickpea flour, citric acid, coconut glycerin, coconut oil, miscanthus grass, natural peanut butter flavor, natural chicken flavor, rosemary extract, sunflower lecithin, sunflower oil, water.
Our joint medicine for dogs is made with plant-based ingredients as we believe that is the key to meeting our dog's needs and nutrition without compromising our planet's future.

• To counteract overfishing, we source our dog OMEGA 3 essential fatty acids for dogs from marine algae, which saves 60 tons of wild-caught fish for every 1 ton of omega-3 oil.
• We source the only allergen-free GLUCOSAMINE for dogs from vegetable origin as the traditional source of shellfish creates a number of health and environmental problems, including extreme water pollution caused by the widespread use of toxic pesticides and veterinary drugs mixed into fish feeds.
• To protect our marine species from extinction, we use the only plant-based CHONDROITIN for dogs, which is normally sourced from shark cartilage.

Our natural dog chews are hands down the best hip and joint supplement for dogs, not only because it is effective and efficient but also because it is sustainable as it is packed in an aluminum jar that recycles forever and the label is made from post consumer resins (PCR), which means that it is free of virgin plastic.

We've also made a commitment to donate 1% of our gross sales directly to environmental nonprofits whether or not we're profitable, by partnering with a network of like-minded individuals, businesses, and nonprofits working together towards a common goal: protecting the future of our planet, it's called 1% for the planet.
Dogs under 25 lbs – 1 soft chew per day

Dogs 25 to 50 lbs – 2 soft chews per day

Dogs over 50 lbs – 3 soft chews per day
KEY INGREDIENTS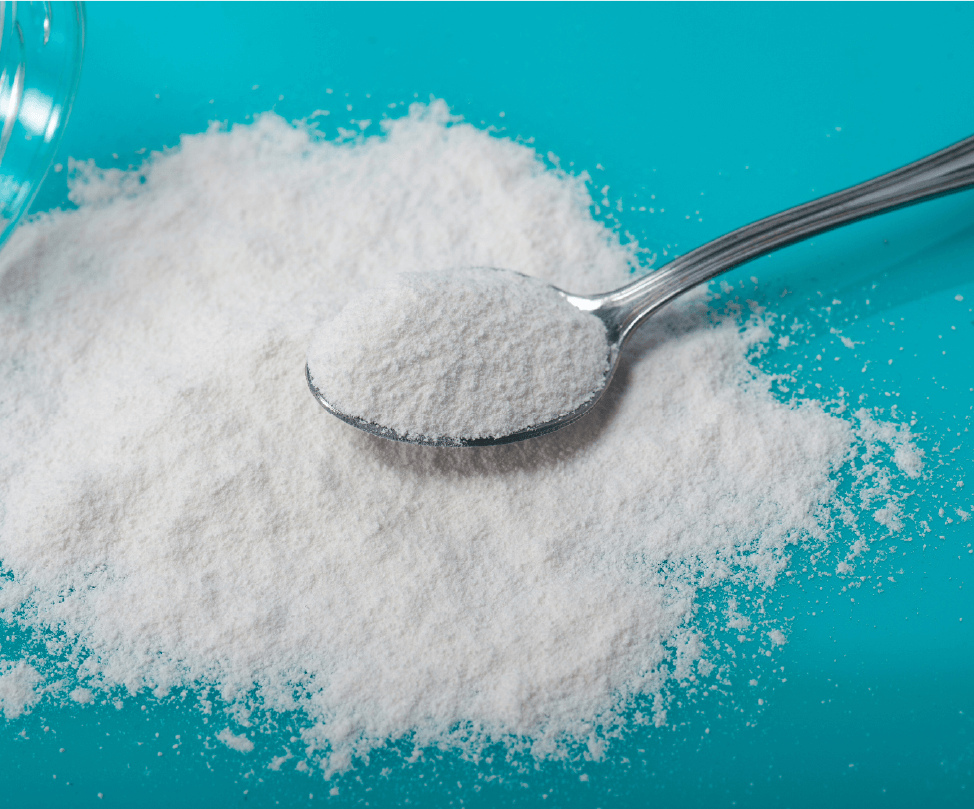 Omega-3
Mokai's sustainably sourced Omega-3 contains a high concentration of DHA, EPA derived from marine algae. These essential fatty acids will help your dog's health by reducing inflammation, controlling allergies, keeping his skin and coat shiny, and supporting his cognitive functions.
Glucosamine
Supplementing your dog's joints supports long-term joint health, and may actually improve performance by addressing muscle soreness that results from exhaustive exercise. Mokai's
MSM is sourced from plants, making it the only allergen-free
Glucosamine as it doesn't come from shellfish.
Chondroitin
Mokai uses the only plant-based chondroitin, which doesn't come from shark cartilage but is just as effective. It helps build cartilage and prevent breakdown from osteoarthritis. Many clinical studies have found that chondroitin can reduce joint pain and stiffness.
Our pup loves them!
My almost 14 year old English Springer Spaniel just loves these supplements. We have noticed a difference in her mobility since using this supplement daily. They are easy to crumble in her food and she thinks it's a treat.
My dog loves these chews! I wish I had ...
My dog loves these chews! I wish I had started her on glucosamine earlier in her life though. I will be ordering these for the rest of her life going forward.
My dog loves it
Love this company and the products
Helps Mr. Scout keep up with his much younger sister.
I have been giving two a day to our 11year old lab, 80lb boy for 8 months now. I truly see a difference in how his mobility has been stabilized. Sure, he still gets sore after long hikes (which he throughly enjoys) but not as intense soreness as before. He loves the taste and his younger sister, Roxie, is always right there hoping to get one of these chunky treats,too! She's too young to need them, yet. If you have a dog with Arthritis, talk to your vet, mine recommended we try glucosamine. It does take a bit to build up in their system but for Scout it's working.
Perfect
My dog had TPLO back in June and we were told to put her on glucosamine while she heals. We found these to be very affordable and she thinks they are a treat so it's a win win for us! Very happy we came across this brand!
Savory for pet and helps with Arthritis
Appeals to my pee and helps with arthritis pain.
Mary Poppins would approve
So far, our very picky old dog will eat these without having to hide the pill in something else. Our other dog (who eats anything) loves these and thinks they're a treat. Thankfully it's been no problem getting their medicine to go down! We can't say whether the supplements actually work.
Frequently Asked Questions
Genral Inquiries
The Mokai soft chews are suitable for dogs of any age and breed, however, we recommend introducing this supplement to your pup slowly when they are around 6 months old. If you have any concerns please consult your vet.
All our products are intended to be consumed by our furry friends and are not safe for human consumption. Please keep packages out of reach of children.
Returns & Exchanges